Our History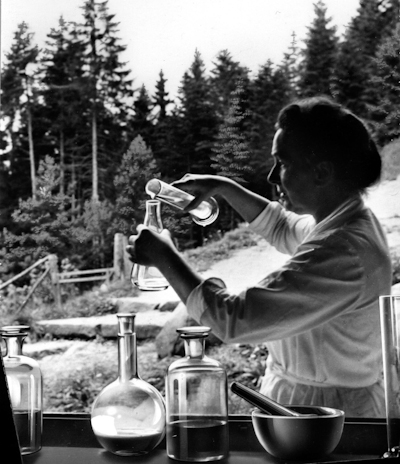 Rosel Heim was born in Achern, a small town in southern Germany. The daughter of the town naturopath, she grew up in an environment that recognized and explored the healing power of plants. As a child, she gained a great respect for nature's ability to restore and rejuvenate. This complimented her early fascination with skin care.
For her education and training as a cosmetician she visited many schools and laboratories in Berlin, Munich, Vienna, and London.  In Berlin, the young Rosel Heim had her first glimpse into the wide world of beauty products and skin care.  There, she worked closely with the most accomplished professionals in Germany's cosmetics industry
By 1935, Rosel Heim had introduced her first skin care program.  She developed an entirely new method of feeding nutrients into the skin by creating an airtight seal around the face that allowed for optimum absorption of cream without altering the molecular structure of active ingredients. This was called the "Golden Mask". Revolutionary at the time, the principle behind the "Golden Mask" is now a standard procedure in dermatology and skin care.
The effectiveness of her products made Rosel Heim an instant success in Berlin's artistic circles. Popular actors from film & theatre became full-time clients and life-long friends.
Following her success in Berlin, Rosel Heim opened cosmetics institutes in the German cities of Baden-Baden and Stuttgart. She developed advanced products that became the international model for today's modern skin care.
Rosel Heim's experiences motivated her to work on improving the vocational training of cosmeticians. In 1951, with the help of fellow cosmeticians, she founded the first Professional Association of German Cosmeticians, of which she was the first president.
By 1949, Rosel Heim found her original skin care philosophy being compromised for the sake of mass marketing. The manufacturing and worldwide distribution of her products had been licensed to a national firm. In the years that followed, the brand's great economic success and rapid growth made it impossible for Rosel Heim to maintain her original ideals. She decided it was time for a new beginning.
With her two daughters and her grandchildren Rosel Heim developed a skin care concept that bound her deep understanding of the natural world with the latest scientific knowledge.  This new product was simply and appropriately named Rosel Heim nature + science. Today, the company remains a family business.  The third generation of the Heim family continues to research and develop natural skin care following Rosel Heim's highest standards and ideals.